This Weekend:
My family returned back from their trip to Mexico yesterday and my younger brother couldn't wait to get on to xbox live and play some video games which he missed for a week. The news that I got back regarding my grandfather though was good news. He was back in good condition and out of the hospital resting at home. I guess seeing his large family there visiting him made him feel better and helped him recover a bit in the end. I did get some souvenirs from my mom who never fails to bring stuff back when she travels. She brought some alcohol which everyone seems to look forward to including some in town made tequila, she brought different kinds of cheeses and breads and my younger brother got me some candy and a t shirt.
My younger brother has a cat which he made me take care of while he was gone to Mexico and let me tell you that the cat really must have missed my younger brother a lot! I know this because the cat would keep bringing in "presents" for my younger brother when he was gone after the second day. These presents were birds that the cat managed to kill and he always left them in the same spot which is the spot where my younger brother plays video games. The first day I saw the birds I was freaked out by it and thought the dog had done it but then the next day I saw the cat literally take down a bird from a tree and bring it into the house and left it on the same spot as he left the other bird. Max(my dog) actually tried to clean up the mess this time seeing how upset I had been the time before and took it to the backyard next to the trash can. Here is a picture of the cat: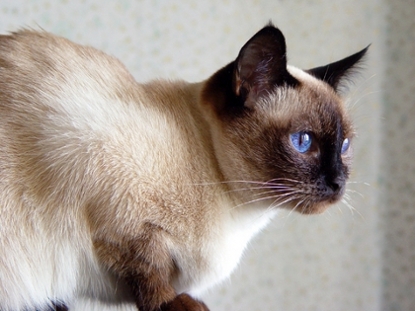 Pictured: a look a like of my brothers cat
Were not quite sure what breed mixes he is in but we do know that the mother was a tuxedo patterned cat and he seems to have a siamese color pattern. Some have told me he is a "Thai" cat. The cat's name is
Cuauhtemoc Blanco
, named after the famous soccer player who played on the Mexican national squad. Most people around here can't really say his name so we just call him Captain Blanco for short. The reason we called him "Blanco" (which means white in Spanish) is because as a kitten, he and about half of the other kittens were incredibly white. Eventually they all developed different looking patterns and this one turned out to be brownish. The cat is friendly yet remains aggressive and always comes on command when you call his name.
*Pictured: the actual Cuauhtemoc Blanco(not the cat)*
Also during this weekend I got to watch the CONCACAF Gold Cup 2011 final featuring Mexico and the United States. Mexico ended up winning the cup which means they will now be a part of the confederations cup a year before the world cup in Brazil. The game was a good one to watch too since it had many great plays in it. In the end the score was 4-2 with Mexico winning the match. No bets were placed this time for the soccer game but I still got to rub it in some of my friends faces.
Movies:
During the weekend I watched "La Mano Di Dio" which is about soccer player Diego Maradona. The movie shows the wrong paths that Diego kept going through after he became famous and eventually ended up hitting rock bottom on more than one occasion. The film shows the injustices that Maradona went through through on the hands of Fifa and what he ended up looking like years after his major success took place. I recommend soccer fans to see the film since it shows many strips of film from when Maradona was in FC Barcelona in Spain and when he was playing for Napoli in Italy.
Another film I got to watch again was Zoolander which is one of my favorite films. It always makes me laugh regardless of how many times I've watched it even though some of the cultural references are dated. The film has aged well though and is one of the funnier films in which Owen Wilson is in. Also, I've always been a fan of Will Ferrell and he doesn't disappoint in this movie with his character. If you haven't watched it before I suggest you give it a watch on netflix or something.
Comments:
Today I would like to know why you guys named your pets what you named them. If you do not have a pet, then what type of pet would you like to have? The two pets we have in the house right now is Max, who is a maltese poodle, and Blanco our cat, which we don't know what breeds he is. Before I had them I never really was a pet person but I couldn't picture our house without them now anymore since they have become a part of this family.